Thank you wonderful readers for your wonderful input. I shall share now that it was ME (the winner) who thought it was of course no other way about it that faux drawers should have hardware on them. So we are all geniuses 🙂 THANK YOU for agreeing with me 🙂 What I didn't share in that little post was that I actually promised Chris that I would get as many pulls as you readers voted for – so if you voted that faux drawers needed hardware, we would get 11, and if you voted that they didn't, we would get 9. It was actually Chris' hilarious idea to write a post about it and have you guys vote on it, which I think is pretty awesome. I was fairly confident as I was writing up the post that I would win, but initially early yesterday morning things were a little neck and neck so I started getting freaked out. Thankfully, you pro-faux hardwarer's won out 🙂
From the beginning I wanted the hardware for the bed to be classic, and immediately what popped into my head was a bail pull
They're classic and you always find them on old furniture. But as I was clicking around I found a bail pull that had a little bit of glass on it, and just like cows like shiny objects, I am for some reason really attracted to glass hardware. I don't know what the hell it is because before I knew it I had 4 pieces of hardware to show Chris and 3 were glass (the other was ceramic). We've got clear glass bin pulls in the kitchen and mint green glass bin pulls on the hutch in our TV room and I just had to have glass pulls again. I don't know what came over me.
When I called Chris into my office to show him the ones I liked I told him that I went a completely different direction than the bail pulls I had initially told him I wanted. He just laughed – he knows me too well. So I showed him the first one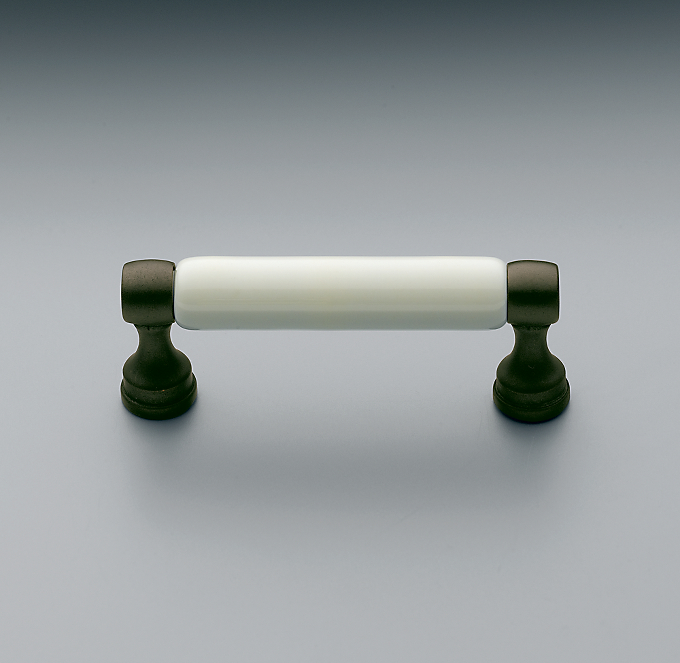 from Restoration Hardware found here
This was the lone non-glass one. When I showed it to him I asked how much he wanted to spend per pull and he said, "Not $13-$15." Welp, that might be a problem.
It wasn't a problem for this one
And the awesome thing about that one was that it came in FIFTEEN colors: amber, purple, black, clear, milk white translucent, cobalt blue, forest green, light blue, depression green, milk green, depression pink, peacock blue, ruby red and white. That's a mouthful. I really liked that one, or those ones, a lot.
This one was also pretty cool
Ummm, but it was $20 EACH, so I didn't like it that much. (way too expensive for me)
But the winner was this beauty
Hello beautiful, yet strange mix of modern and traditional. I love you.There was something about the glass, how clean the lines are. Oh, I don't know. I just loved it so much. Chris wasn't immediately on board and thought it was too modern. I totally understand that complaint, but I pointed out that a platform bed is a little modern and we're making it look more traditional by trimming it out a little bit, so this sort of fits that same bill. 🙂 Chris sort of chuckled a, "Whatever," and relented. Hooray! 🙂 11 pulls it is! 🙂