After Chris realized he forgot his plumbing tools at a job site and couldn't work on installing the washer and dryer he worked on prepping the exterior for paint (meanwhile I've been head child wrangler – so is the life of renovating with a toddler and a baby.) There's is nowhere near the amount of prep work for this house as there was for Picardy, so that's awesome. And if course our painters factored in their prep, but there is still some work that needs to be done. So Chris spent Saturday going around the outside of the house and ripping down cable and conduit. The conduit was on the outside because someone at some point wired an outlet by running the wires outside, instead of inside the wall. Fucking people. There are also A LOT of cables alllll over the outside. I of course never took a good picture, but trust me: a lot. Apparently over the years whenever a new phone line, or Internet line, or cable line, or satellite dish cable was installed, they just left every single other thing in place. It was a tangled web of useless wires all over the outside of the house. But Chris was able to get most of them down, so that's good. There's still some patching that needs to be done here and there, but a lot of our prep is now done.
And that got me thinking about what color to paint this sucker
At first I was thinking a creamy white. With dark charcoal trim. It seemed pretty safe and a really standard California Ranch color palate
But I love dark houses. LOVE. REALLY LOVE. There was a black house that was around the corner from us on Picardy and for years whenever I went by on walks or morning runs I always admired it. But I was scared. It is a lot to paint a house that dark. And so I pondered the idea on Facebook. The wonderful thing was that in less than an hour so many of you help push me to do it. It was an immediate voice of reason for me: go for what you want and don't be afraid. I WON'T BE AFRAID! Why was I afraid? Well, it's a dark color and our eaves are really deep, and so I had feared that it would make the house look even darker
But you know what? Paint color is never going to change how deep the eaves are. The house is always going to look a lot more set back and have a shadow cast. And I actually thought that having the lighter color on the posts, and fascia would be a brighter introduction to the house – that it would really pop off the darker background of the body of the house.
Also, there isn't a ton of body to paint on the front because of the brick facade
And I think the dark color will really help set off the brick because I really want to leave that natural. Nowadays brick is frequently painted on the exterior of a home, but a really like ours. Part of that is because it's in a small dose. If the entire exterior was brick, I might rethink that.
What dark color you ask? I'm thinking a brown gray/black. I want a nice neutral that ties into the brick well, brings out the mortar and lets the other colors going on outside (eventual plantings) really stand out. I haven't looked into paint colors too much, but maybe something like this
Like?
And I'm thinking a BRIGHT blue for the front door. I loved having a yellow door at Picardy, but wish it was a little brighter. So for this house I really want a POW of color like this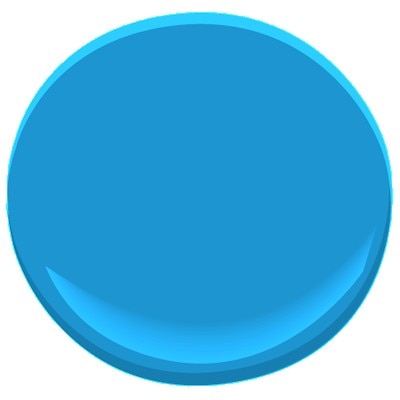 The next question was what color for the trim, and do the eaves get painted the same color? On the sides and back of the house there isn't anything too special with the trim. The eaves are of course all the way around, but what the front also has are all the posts
In order to figure out what the hell to do about all the color choices I decided to use a computer application to upload a photo of our house and then pretend to paint it different colors. I decided to use Benjamin Moore's program (most major paint companies have an equivalent program, though some don't let you upload your own photo, and some don't let you upload exterior photos). I used BM because I love their paint colors, so I figured it would make the noise sense to be able to test out there colors virtually on our house (and BM has no idea I'm writing about them, I just wanted to share my actual opinion about their program). You have to register in order to upload your own photo, but I was screwing around with the program on Sunday night and I haven't been spammed yet, so it hasn't proven to be a poor choice yet. I uploaded a photo of the front of the house and started working away. In using the program you basically create different layers and select what you want in that area with a "paint brush." The program is supposed to be able to recognize objects and help color around them to make your selection, but this function wasn't working very well for me
I didn't need things to be perfect any was sloppier than I should have been, but I just wanted to get an idea of what the hell my paint colors were going to look like
I worked at creating all my different layers and adjusted how things were painted. Chris had the idea to have a 4th color (body, trim, door and then a second detail trim color). The only kicker was I wasn't sure how to separate those two trim colors. Would the window trim, fascia and posts all be the same color, and then the eaves be another? Would the posts be the different color? Ultimately after about 45 minutes of changing things all around over and over and over again (which was actually really helpful) I finally settled on the plan (these are NOT the final color selections, just an idea of the color range I like)
The plan: color 1 is the body of the house. A dark color. Color 2 is the first trim color and it will be the posts and the eaves. It will be a light color. Color 3 is the second trim color and it will be the trim around all the windows and the fascia. It will be a bit darker than color 2. Color 4 will be all the doors. I'm thinking bright blue, but this isn't set in stone. I like having the link between the window trim and fascia, so neither stick out like a sore thumb. And having the eaves and posts painted the same color will look seamless.
What do you think? I'm looking forward to the actual paint job being a lot less sloppy than this one.
We're not on the painter's calendar yet. There is a bit more prep work to do. And we still need to replace this basement door as well
We got a salvage door on Sunday. It's a really weird size (36 x 70), so nothing in store would work. And we want solid wood, which would be expensive to order. We got a single panel solid wood door that we can cut down without too much trouble for only $100, so that's not to shabby.
Making these little bits of progress are definitely making me itch to get things painted. It will be such an awesome transformation.