The plan? Well, time to talk about that.
Let's be honest: I've said it once – I've said it 400 times – this market is fucking insane. And as much as we would like to move, it probably isn't the smartest decision now. If we stay living here we'll be saving money every month, living a less stressful life without renovating with an infant, and we'll get to wait for a house that really fits the bill instead of feeling like we have to settle. After all, we're looking for our dream house, forever house, whatever you want to call it. There have been several houses that we have liked and thought about putting an offer on, but nearly all of them would have required large compromises. And they all would have required a LARGE mortgage payment. And the more and more I think about it, I really do not want to be house poor. I would rather wait a little longer for a crash (or at least a dip) and get a house for $100,000 less, which would mean $500 less a month on a mortgage payment, which would mean $6,000 a year more in our bank account, which would mean $60,000 more in 10 years and almost $200,000 in 30 years. And that's not even accounting for how much that would actually increase with interest and smart investments.
Rrrraaaaiiiiiiderssssss
I've been thinking about this a lot the last couple of weeks. Chris and I work really hard. We're young and there are certainly people who have worked much harder for much longer, but between the two of us and all of our jobs and raising two kids we put in some really long hours. And working for yourself it's really hard to ever turn down work. And the work is FLOODING in right now. Chris has turned down more work in the last month than probably the last 6 months combined. We're getting really picky about what we take, trying to send stuff out to other people we've worked with before, taking on more management projects so it's less fatigue on Chris' body, etc. But still, we sometimes get 4 new client phone calls and 3 new client emails in one day. It is a WONDERFUL problem to have, but it still makes life more stressful. Chris works a full – and very physical – day, comes home, plays with the girls, helps me put them to bed, returns new client emails and phone calls, invoices people for the work he's done, corresponds with clients he has projects going on with, and pretty soon it's 10pm and he's been up and at it since 7. Meanwhile, I'm up with the girls, getting them ready, shuttling Zoe to a grandparent's house or day care or spending the day at the zoo with her, taking care of Merritt, trying to make sure I feed myself, doing filing, billing and back end office work for our business, emailing, researching, or bill paying for my brother's business and then some nights heading off to work at the A's. Pretty soon it's 10pm and I'm crawling into bed after I get home, and I've been up and at it since 7am.
I don't want a pity party at all. I know everyone works hard. But I think the hard work is wearing on Chris and I bit. In a perfect world we want to make more passive income, work a little less and enjoy life a bit more. My brother's real estate business goes bonkers when the market isn't so hot (it's better to make real estate investments if you have the capital in a lower market because the potential return is much greater), so we're hoping that when the next wave hits we're able to invest some of our money with my brother's company, work for him more managing projects (less clients involved so a better chance for less stress) and take on more project management work for our clients. Or at least less physically taxing work for Chris. I know he doesn't want to be on his hands and knees tiling when he's 55.
One thing that would make life less stressful is making a lower mortgage payment. We have goals of how much we'd like to bill every month and have been meeting or exceeding that (which is wonderful), but as is the nature of working for yourself: you never know how much you're going to make in a given month. So not having a GINORMOUS payment to make every month would certainly ease the burden and stress. It would also allow us to save more money every month because as self employed people no one is helping pay for "retirement" but us. And one day we would like to retire. Or at least work a lot less.
Anyway, what I'm getting at is that we'll probably be here at Picardy for longer than we initially thought. Maybe another 6 months, maybe another 2 years? Who knows. It really depends on what happens with the market. That doesn't mean we've stopped looking, but it definitely means we're being a lot more selective. Over the weekend we checked out this place…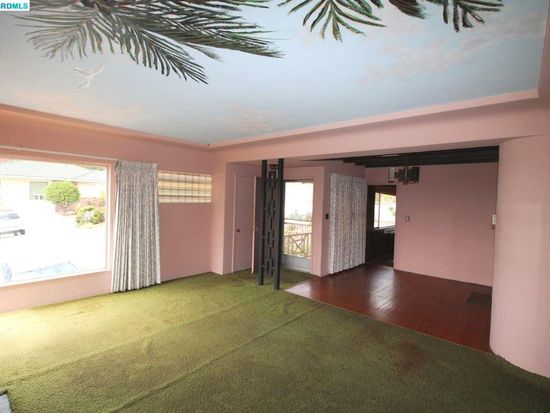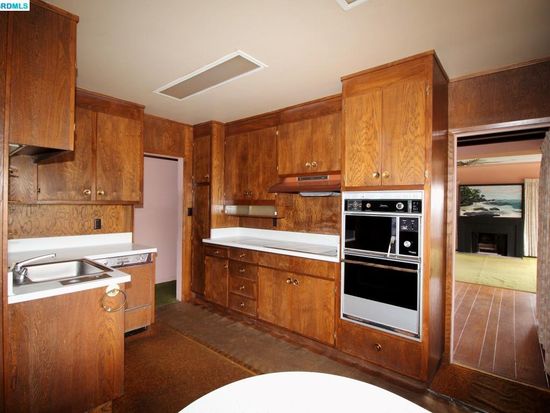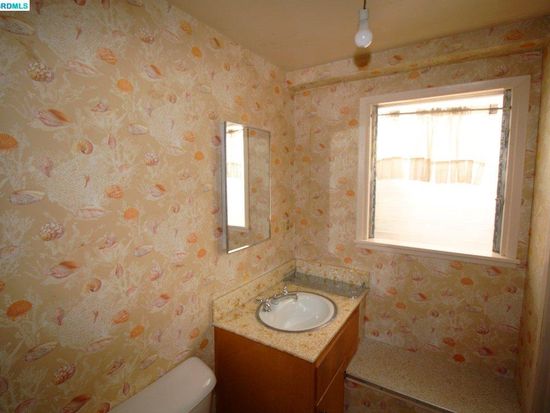 …but it didn't work for us. Still too high of a price. But it was worth a looksy.
When we were looking for Picardy it wasn't in the depths of the market, but it was pretty low, and there were actually a fair amount of fixers out there for us to look at. They were also at prices that we didn't mind paying at all. Now when we look at a place we wonder just how long it'll take us to save up for kitchen cabinets.
With that in mind I've been thinking about how we'll shift things around here. First off is definitely the girl's sleeping arrangement. Right now Zoe's got a room to herself
And Merritt is in our room with us. I'm thinking that either around the time Merritt starts sleeping through the night, or when she shifts to one nap a day (if Zoe is still taking hers at that time), we'll move them into the same room. Of course the room Zoe is in now is teeny and it would be pretty crazy to stick the two of them in there together, so my office will turn into their room
I still need to purge more art supplies and donate the ones I really don't use. Some office and art supplies will stay in here high up on the shelf just for storage's sake, but most of this will become their room. I'll get rid of some more of my stuff (the sewing table for instance, I just don't sew enough anymore to warrant the space a table just for the sewing machine takes up), but most of it will move to the office with Chris
We'll reconfigure this space to work more efficiently for the two of us to work together. Before that happens though we need to repair the ceiling in here
We had it tested for asbestos and everything was okay, so we just need to scrape it down, repair, skim coat, texture and paint. Not too bad. I'll probably scrape it down and have been hoping to get that on my to do list in the next couple of weeks.
It would also be nice to finally get the laundry room cabinets out of our front room
Just so that we can finally use this space again for SOMETHING.
The laundry room is definitely waiting for its storage, sigh…
Chris wired an outlet several weeks ago where the smaller base cabinet will go, so that's progress!
While I would be excited to move on to our next BIG project of finding the "forever" home, there are still many ways to make this house work for the time being. And it still allows me a chance to be creative and make the girl's space their own, even if it still feels a bit like a leftover for them. It'll also be nice to share an office with Chris and make that space more efficient for us as well. And the possibility of having our front room back in play as a space we can use would be stupendous (how long have those cabinets been sitting there???) All in all, this house can definitely work super great for us for the time being. The girls will have their space and we'll have an office. We still really wish we had extra storage space for client materials and a larger yard for the girls to run around and play in (Zoe LOVES to be outside), and because I'm selfish I do wish Zoe and Merritt had their own rooms, but those are the items that will have to wait for now. I'm hoping that maybe we can get the office and their room ready within the next 6 months. That would be my goal. Zoe was sleeping on her own by 8 months, but wasn't down to one nap a day till about 14. I'm hoping that Merritt makes it through the night sooner, but I think just for convenience of sharing a room it would be nice that they be on the same napping schedule so they could play in their room and not have to worry about the other one taking a nap. Being on the same schedule and sharing a room would let them play and sleep at the same times.
So, here is my question for you folks: this blog started out as a renovation blog. And while we're mostly done with renovating there will be another 6-10 months more of shifting those rooms around and working on them (though it will be slow going), but when that's done, and while it's going on what would you be interested in reading about? I realize this blog is for myself and I can write about whatever the hell I want to, but I also was wondering if you guys had any ideas? There will probably be a period when little to no renovating is going on and I still want to keep the blog going, so fill me with ideas of what I can write about. Go! 🙂