Yup, we did. I must say it: I WANT TO MOVE SO BAD. I know this is TERRIBLE and we have a lovely and awesome house and we could make it work for us for the time being. But I have a fucking bug up my ass and I want to move.
Plus, moving the girls to share a room isn't actually going to work at this time: Merritt is FINALLY kind of sleeping like a "regular baby" (whatever that means, but not as much crying at night and fewer wakings), and Zoe shits around her room for 2 hours every night. We can't have Zoe playing in her room, making lots of noise, etc. and keeping up a baby till 9pm when we have finally gotten Merritt on a schedule that doesn't leave us all like walking zombies.
And we are so quickly running out of storage space for work materials and kid stuff (and we really don't have much kid stuff). Our house is 1600 sf, but we use about 250 of it (our "formal" living room) for storage – cabinets are still sitting in there at this time for example. And it stores all the lights we'll be installing for people, drywall that needs to be installed, etc. So we're working with 1350 for 4 people. I know it's an obnoxiously American thing to think that's not enough space, but with only 1 real closet that's not a clothes closet in the house, we need storage.
And I just want to make our family forever home. I've been having this itch for about 2 years now, and the last 1 1/2 years having been spent actively looking for that forever home, and well, you can imagine I'm getting impatient as FUCK.
So we upped the budget. How did we do this? Well, we have a set MAX budget. But about 2 months ago this magical house came on the market. It was an acre, COMPLETELY FLAT, had a 2 car garage, plus a 40′ x 40′ basement area that Chris could make his shop (doubling our current shop space), each girl could have their own room and we could remake the formal living room into our office (as a family run business out of our home, office space is a MUST). The only kicker: oh, it was several $100k OVER our max budget. But, we realized: if we find a place with a lot that big, we could build an in-law unit and the rent we would receive would be enough to supplement our mortgage payment to afford a home/land several $100k over our initial budget. But it would HAVE to be buildable (many regulations – set backs, separate parking, etc. if you are to build a stand alone in-law on your property.)
So now we have 2 budgets: we have the "standalone budget" (a home/land just for us) and the "in-law budget" (a home/land that we could build an in-law on to supplement our mortgage payment). This has opened things up. In addition, we've started working with the real estate agent who sold us this house. We weren't before because I had my license, but it recently expired and because I don't need it anymore for the work I do for my brother we decided it wasn't worth the time and money to renew it. As a result, we reached out to our old agent (who we LOVE and Chris actually does work for frequently) to help us find a house. This has opened things up more as well because she's obviously a very active agent (as opposed to me), so she's incredibly more knowledgeable.
Now, with alllllllll that being said, let's see what we've looked at, shall we?
1. The one we fell in love with
This was the one that made us up our budget. It was magic.
The interior of the house itself was nothing to write home about. It was a standard ranch from the 50s that was in need of love
The interior was completely servicable, just very ugly. But we could totally move in right now. The thing that absolutely made us fall in love with it was the area, and ummm, this yard
That's a fucking acre, in Oakland, that's completely F.L.A.T. Yes, flat. And if you're at all familiar with this area, you know that this is incredibly rare to find. It also had ample space inside, and double the work space for Chris with a basement/crawl space (with 8ft + ceilings) that would need a slab poured and some electrical work done – but that's easy.
We LOVED it. LOVED it. Of course it was also and the T.O.P. of our "in-law budget." We talked to our parents, got help from them, and put in an offer as high as we could absolutely go (which was just BARELY over asking). But it wasn't mean to bed (cue many sad faces). It got 9 offers and the winner was $330k over asking. Yes, I know. How fucking god damn fucking ridiculous is that? Ugh. We were sad. Again. I cried. Again. I felt helpless about finding a house. Again. It sucked.
Our agent said it was a once every 10-20 years lot. The worst part is that whoever got it is probably going to tear it down and build the MOST OBNOXIOUS mansion in it's place. And make me barf all over myself. (all pictures from here)
2. The one that's been on the market forever
Well, it's been on the market for almost 3 months. And in this market, that's forever. But sometimes, that's what happens in a market like this: seller's get very entitled. They think that because a lot of houses are going for a lot of money, or a lot of money over asking, that their house is worth a TON of money. It's always hard to say what a house is actually worth, because a house is worth what someone is willing to pay for it. Sellers get attached to their homes, or attached to the idea of making a lot of money – as is the case with this seller.
Our agent thought we should check this one out. It was on an acre, not entirely usable, but still an attractive lot. It also had a pool. Not a plus or a minus, but an interesting feature. There was a ton of interior space and a 2 car garage. We thought that because it had been on the market over a month at the time when we saw it that there might be some wiggle room. Not to mention the home needed some work
Or do you like that fake lava rock wall?
Basically every surface in the home needed touching up. Even all the walls. That home would do good with some new drywall all throughout. It was weird. Just gashes in places and not kept up great. It turned out it was a rental, and that made sense because it wasn't cared for great.
But the seller was delusional. And the seller's agent was fully aware. I could tell he was annoyed when we went to go see it, and that put me off a little bit. But by the end of the showing I could understand why: his seller was never going to be satisfied and he was doing the work of continuing to show the property and his seller wasn't going to sell. Yes, that is very annoying. It was below our "in-law budget," so there was wiggle room. But to us it wasn't worth ANYWHERE NEAR the asking price because it needed soooooooo much money poured into it. It turns out they had had 3 offers (and this was almost 2 months ago): and at least one for full asking, all cash. But that wasn't good enough for the seller. They wanted more. And apparently they're really rich people who can kick their tenant out and try to sell a valuable property and let it sit on the market for months taking in no income and just waiting for their right price.
It wasn't worth the price they wanted AT ALL. So we politely thanked the seller's agent at the showing. (images from here)
3. The Flip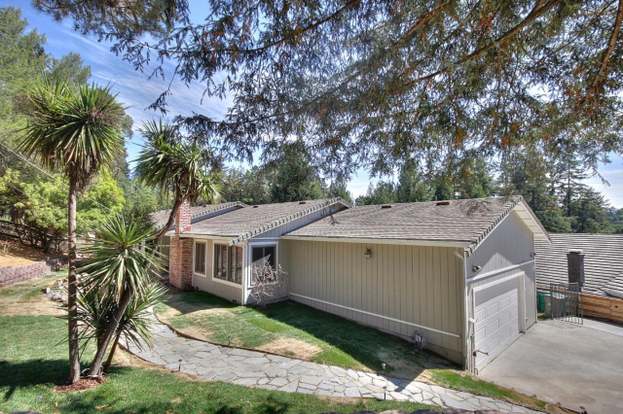 We wish we had seen this property earlier. But, we didn't have the "in-law" budget at the time it went on the market before. And some investor and a real estate agent bought it and flipped it. And it's ugly.
Why did we see it? Well, we went to go look at it for 2 reasons: just to get an idea of homes in the newer "in-law budget" range. And to see in what condition the home was in. If the work was done cheaply and things could be removed, it might be worth it to purchase it and take some of the things apart and sell the materials. Certainly not a top choice of something to do, but it was on a big lot (just under an acre) and already had a secondary unit built in the backyard – we would just have to run plumbing to it and install a kitchen and bathroom, so a chunk of the cost of building an in-law was already spent.
Let me tell you, this work was complete shit. 2 things just first off. I fucking hate beige or beige-yellow or whatever you want to call this "official flip color"
And second. Can you at least clean the floors before you take pictures? I know that is kind of being a stickler, but when people are going to pay a shit ton for your product, you could at least show the effort to use a fucking swiffer
The work was crap. It was ugly and not done well. You could see drywall tape seams, there were crappy transitions between the floors, gaps between the lights and the drywall, they put sod down in the back and side yard and did no attempt at any watering so they're shriveling up now, they completely cut into a joist supporting the back deck because they were lazy. It was just shoddy work. And it didn't surprise me that the agent had a vested interest in the sale. If contractors and flippers would just spend a couple thousand dollars to hire a designer, their spaces would look so much fucking better. And sell for more and quicker. I don't get it.
This one has also been on the market for a while in this market (over 2 months now). It is priced high to me, but again, what do I know. It's fallen out of escrow once. But we shall see what happens. (images from here)
4. The super cute one that was too small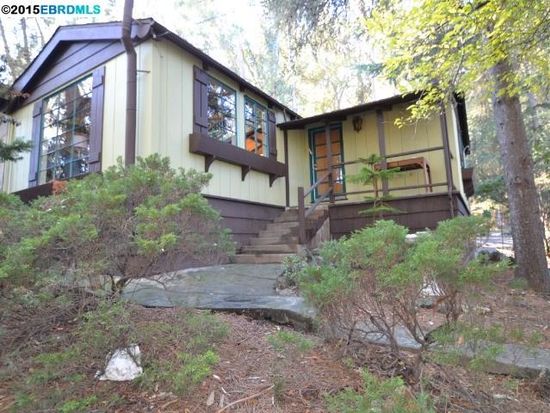 Sometimes people ask me what my favorite style house is. That honestly changes from time to time. At the moment I would say a California Bungalow. Or a Craftsman. Or a Victorian. And I really like our Storybook home…you can see, I like character. I can really get behind the style of a lot of houses, I just like a house that knows what it is. Is it a Mid Century Modern? A California Ranch? Contemporary? I just want it to have it's style. This one certainly has a very sweet California Log Cabin feel.
It was REALLY cute. It was also on a 1.25 acre lot. Yes please. It was sloped, but still very usable. It was also very cute inside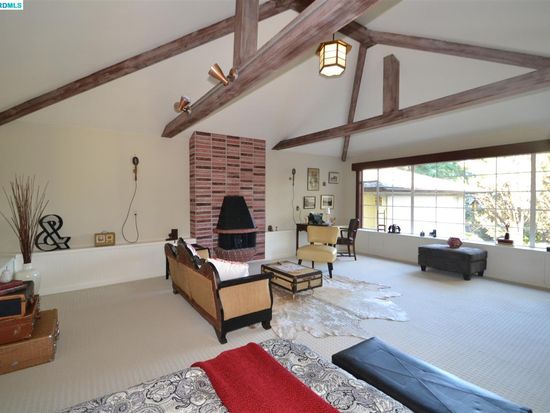 And had an awesome driveway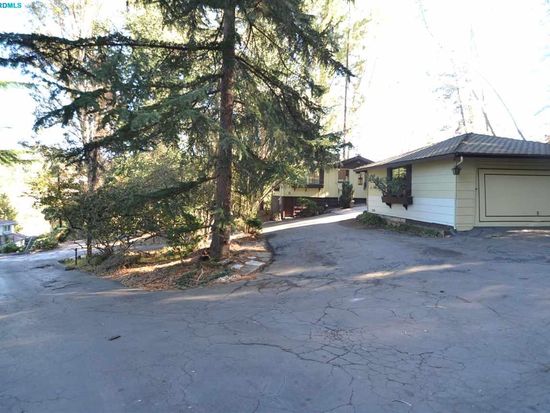 But there were 3 problems.
1) Oakland housing requires that if you are building new construction (which our in-law would be), that there be certain road requirements (pull outs and secondary access if past 75ft long). This house was on a private road off of a main street. We were fairly certain that if we were to build new construction there would be certain road requirements we would have to abide by and build – and that would cost A LOT. That was something we wouldn't want to chance. If someone in the city told us we wouldn't have to build or improve the road and then through permit approval we discovered that we would in fact have to, that would add TENS OF THOUSANDS to the budget. Not a good accident to find out.
2) It was already sort of fixed up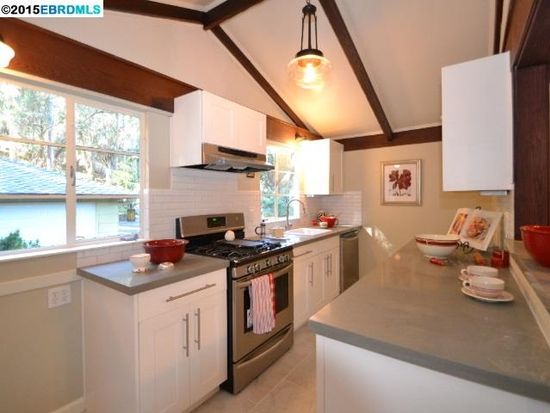 But still needed more work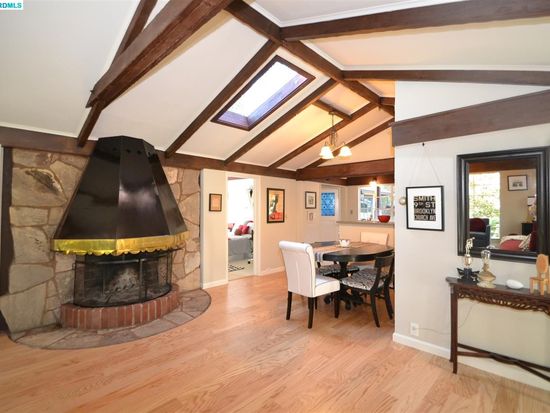 3) And it was small. Smaller than our current house with the bedroom doors right off the living room. So that would be VERY loud for people going to bed.
We decided that it still needed a hefty chunk of money poured into it (we could rearrange the floorplan to make it work), but it was already pricey, and it just didn't seem to be worth it. We felt like we would really be trying hard to make it work, and compromising a lot. It was a great piece of land though and a super cute house, so I was a little bummed. (images from here)
5. The house that was sad
There was something about this house that just felt sad when we walked in. It was in a really great area, at the top of our "standalone budget," on 10,000+ sq ft, had a secondary living space, 5 bedrooms…but there just wasn't anything that stood out to us.
The garage was a little small and we thought about actually ripping down a wall between the garage and the house and combining a larger bedroom with the garage. The kitchen was also SUPER closed off, and we thought about tearing down the wall that opened up to the stairs to the bottom floor and making it have an open railing
But those things would make it sort of work for us. But neither of us got very excited about the house. It felt like another case of making things work. The energy just felt off. It was just, "Yeah, I guess this is nice…" It was weird. It backed up into a green space and was on a pretty good lot, but we just weren't feeling it. I went to look at it twice and the second time it definitely felt like a "No" (ALWAYS go see a place AT LEAST twice before making an offer). It just wasn't us.
It also felt wildly overpriced to me for all the work it needed. The neighborhood is nice, but man, every surface and every room needed some love
I'm sure someone will pay asking or maybe even over. But definitely not us. (images from here)
So, there you have it. More houses. And another one we missed out on. Sigh. Now when we look at houses we have two to compare to the heartbreak. The nice thing at least is that there seems to be a decent amount hitting the market during a time that is historically not as active, so at least there's stuff to look at.
People ask why we would ever invest in a home at this point in the market. I have to think about it differently. Yes, if we were INVESTING in a home, I would absolutely never buy in this market. It always cracks me up because things are always snatched up by investors in markets like this and you don't actually make as much. The smart thing to do is buy low, fix it up (when prices for construction are also lower so the work is done for less money because people don't have as much work), sit on it and rent, then sell when the market is like hotcakes. But we're not investing, we're looking for our forever home. And yes, the market will dip again in 1 year, 2 years, 5 years – whenever the dip happens again. But then, in 10 years it will go up again. We're not looking to sell again in 10 years, we want to be in this house for decades. Sure, it would be better to buy when things were slower because we would have more money in our pocket, but we're ready to leave now: we want more space, we need more room for our business, and we're just ready. We just need to find that house…