It is no secret to anyone that this facade needed a lot of work
And that experience has been super exciting. And terrifying. And challenging.
As is usually the case, when the market is hot, it's tough to get contractors. I called over 10 different people to try and get this siding removed. It was a clusterfuck of who would get it done, what amount of work they would take, blah blah blah. It was quite an adventure. Why wouldn't we do the work ourselves you ask? Well, it's a shit ton of work, and it's at least an hour away from our house. In shit ass traffic. So it would make for not great time management and the project wouldn't move very fast. Plus, the exceptional carpentry involved would make it pretty hard. We finally settled on a painter and the painter gave us the contact of a great contractor they've used for projects like this.
That process started literally over a month ago. Like I said, it's been an adventure. And we still haven't really even started. Well, started construction at least.
First off, we had to hire someone who would be willing to take down the siding and who also had the skill set to rebuild a porch with paneling, install columns like the original had, add paneling, add moldings, reliefs, water tables, repair the siding, install curved glass windows… it was going to be a BIG job. And we didn't really know where to start. My brother gave me a budget and told me, "Get it done." He wasn't that rude because I call him about every 36 hours because I'm slightly terrified because this is the biggest project I've ever managed (inside and out). I'm pretty annoying, I must say. I lack self-confidence and because I'm spending a lot of investor's money I want to make sure I AM DOING EVERYTHING CORRECTLY. The awesome thing is that we've brought Chris in to help with the coordination of things and to help manage construction and do some quality control. I know a good amount, but Chris knows about 17 times more than I do, so having him help on the project also is giving me a little push. My brother having so much confidence in me is giving me an additional push. But, holy crap, it's still scary.
But, back to the project….
Several weeks ago the began the process of tearing down the metal siding. I came out to the city after dropping the kiddos off to find this
Awesome!!! The siding that was left was actually in way better shape than I had thought it would be and it was the coolest thing to see the skeleton of what the building looked like
It was also SUPER depressing because it meant that someone stripped all that awesome trim work away, cryyyyyyyyy. It honestly hurt my heart. But there was a silver lining knowing that we would be giving this place love and bringing it back to life. We could tell that there was only ever one paint job on it – gray with white and yellow trim
Being able to see so much of that original skeleton definitely made me want to pay homage to the building and select colors really similar to the original color scheme. I love being able to be part of that discovery process.
The other amazing thing was being able to be outside of the building while the horrible metal siding was coming down and have SO MANY people in the neighborhood walk by and share so much excitement with us. People were so eager to stop and talk with us about how the building has been such a pimple in the neighborhood, and now it will start to be beautiful! 🙂
Once the siding was down, this is what we got to look at
The contractor elected to remove the last of the siding at the top when the scaffolding is up as they rebuild because it was getting pretty dicey on the extension ladder.
And that's where the building has sat for about 3-4 weeks. Highly annoying, yes. And ugly. I feel bad that it's sitting like this, but we had to uncover what was underneath so we knew how much needed to be repaired as we worked with a structural firm to draw up plans to submit to the city. The city of San Francisco has determined that any building over 50 years is considered somewhat historical. I'm not sure what trouble you have to go through with a 50 year old building versus our 100 year old building – but for us it's a little difficult.
LUCKILY there are two buildings directly next door who were built at the same time: a father built 3 adjoining homes for his 3 daughters. This is #1, the one that is the ugliest as its been stripped of its glory. Building #3 though is pretty well intact still
The city wants you to bring the building back as accurately as possible. And we've got an excellent blueprint to work from because judging from the skeleton marks we uncovered while removing the metal siding, our building and this building looked almost identical. The Preservation Department wants us to closely mirror this building because we all assume they looked so similar. After going back and forth with the facade restoration designers, we all came up with this plan
Pretty fucking crazy, right? Ridiculous. It's amazing to think that our shit ass ugly facade is going to look AMAZING – in a couple months 🙂 Our contractor and I have emailed, texted and had MANY conversations about exactly what corbels to use, what kind of paneling should be in the porch, whether the capitals should be ionic or corinthian (we chose ionic). I picked out what doors we would use, and I picked these Simpson ones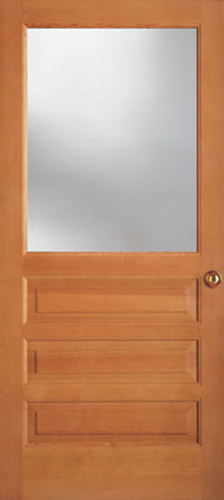 The great news is that our permit got approved and we just had to wait for our parking permit so their work trucks could be out in front. Sooooooon they will finally start construction on the restoration and I absolutely CANNOT WAIT.
But the next big adventure will be the inside. Creating additional bathrooms, opening the floor plan up significantly in the living spaces and still maintaining as much of the original amazing details as possible.
This project is a challenge for me. It's forcing me to really be brave and tackle something I may not think I'm entirely ready for, but going for it. Adam, Chris all my parents – they are always telling me I'm capable. But I don't like messing up and I really don't like disappointing people. And because I'm not only spending my brother's money, but other investors as well, it makes me feel an entirely more significant level of responsibility to make sure the project succeeds without a giant fuck up. So it's about time for me to sack up and dive in!